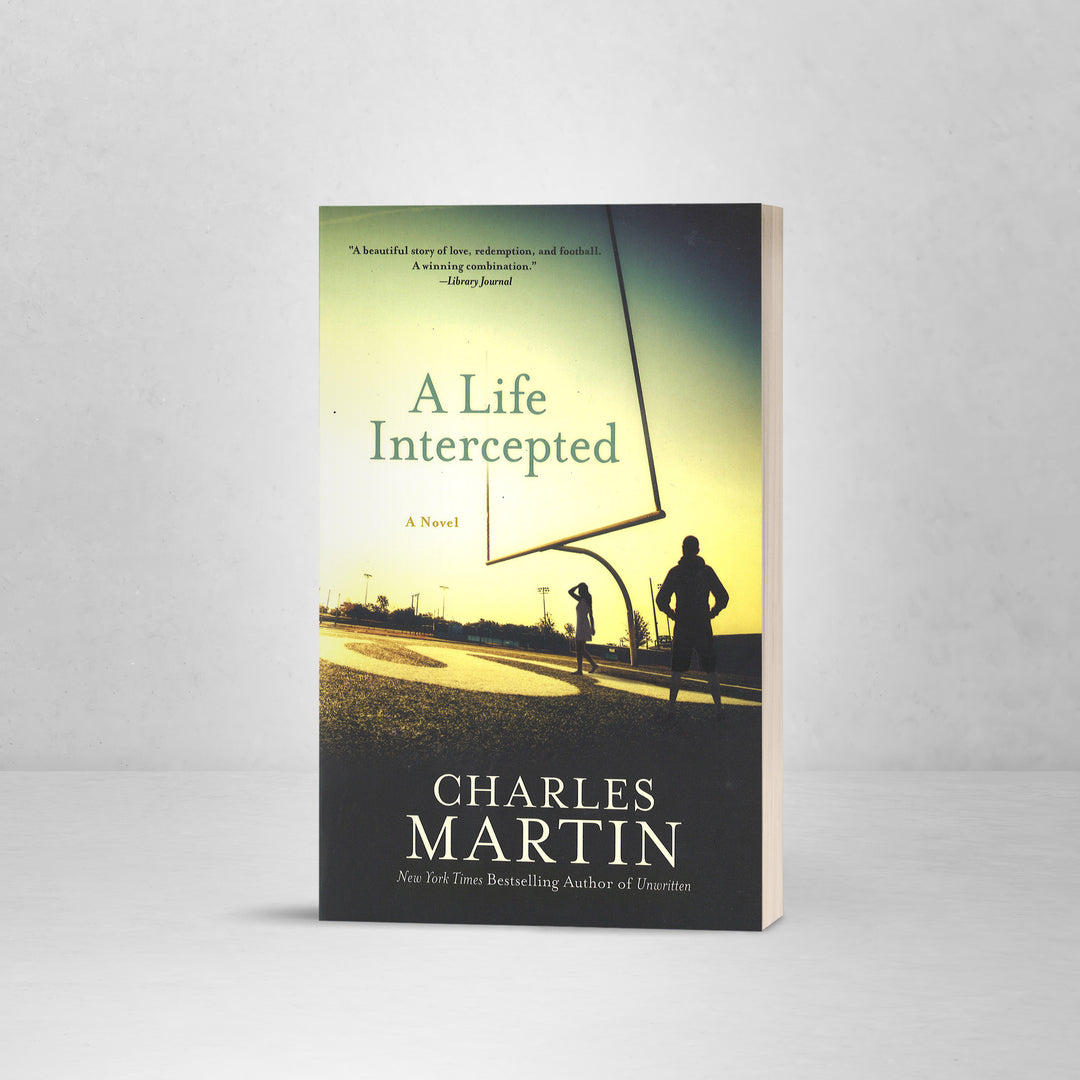 A Life Intercepted
---
by Charles Martin
Football legend Matthew Rising had it all—married to his high school sweetheart and one of the winningest quarterbacks of all time, the number one pick of the NFL draft lost it all in an instant. In A Life Intercepted, New York Times bestselling novelist and former college football player Charles Martin beautifully tells the redemptive story of how one man had to lose it all to find it all.

Falsely accused of a heinous crime with irrefutable evidence, Matthew lost his reputation, his career, his freedom, and the love of his life to a 12-year prison sentence. Having served his time and never played a down of professional football in his life, Matthew returns to his hometown of Gardi, Georgia with one mission: to find his wife.

Convinced of his guilt, his wife Audrey sought refuge from the media in a convent where she grew close to an orphaned boy who possessed more talent and promise on the football field than Matthew had in his pinky finger, but lacked proper coaching. In an effort to regain her love and trust, Matthew agrees to coach the boy, violating the terms of his parole and risking his freedom for the chance to redeem himself to the woman he loves.

Having faced similar feelings of inadequacy and hopelessness once an injury terminated his own football career, Martin acknowledges: "I'd made an idol out of football and bought into the lie that I mattered to the extent that I was good at or somehow tied to the glory train that was football. When that crumbled, I found myself in a prison of my own building...

"A Life Intercepted was born out of this messy emotional implosion: the exposure and failure of my own idol, the unexpected but much-needed healing of forgiveness offered, and then a soul-deep realization that Charles Martin was not born to simply live out his days as a football player."

In a tribute to his best friend and an encouragement to root one's identity in something deeper than football, Martin combines intriguing, emotive narrative with relatable characters worth rooting for, resulting in a classic story of love, loss, forgiveness and redemption in A Life Intercepted.
Low stock - 5 items left

Inventory on the way
Orders Usually Ship Within 1-2 Business Days.
Tracking Information is Available on All U.S. orders.
International Customers Are Responsible for All Local Duties and Taxes.